happy wednesday!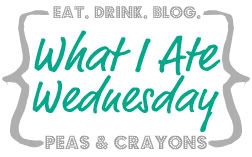 today's what i ate wednesday photos are recipes that i tested and really loved...
I'm hooked on this stuff!
I've tried several raw granola recipes, and this one is the easiest and best tasting.
Although Gena recommends a dehydrator for this, I cooked mine for several hours on the lowest temperature setting on my oven (around 115 degrees).
Baking it at 350 for 30-40 minutes supposedly works well too.
Cookies for breakfast? Hella good!
I made these cookies for my "little taste tester" before school and he loved them!
The original recipe called for raisins but I added chocolate chunks and mini chips instead.
Chocolate for breakfast? I say YES!
If you're looking for something to do with the leftover nut pulp from nut mylk, these cookies are the perfect solution.
I may have found my new favorite chocolate frosting too.
You will either love me or loathe me for sharing this recipe with you.
There is no recipe for the next one
This is just a simple bean and lentil salad that I threw together.
Sweet potato, red bell pepper, tomato, cabbage and kale in a perfect not-to-spicy broth.
I WILL be making this again! It's that good!
These savory little bites of goodness are soooo good!
If you've never tried nutritional yeast, this is the perfect recipe for it.
And honestly, they really DO taste like pizza! :)
If you want to see what other people around the blogging world eat, visit
Jenn's blog
.
You'll probably find something you really like.