I'm back for What I Ate Wednesday, hosted by the beautiful one and only Miss Jenn over at Peas and Crayons, after taking a few weeks off.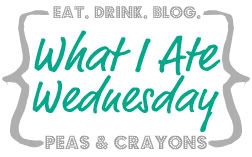 If you've been following me, you'll know it's no secret that I eat mainly organic, raw, vegan foods. My whole journey with raw foods began a little over 3 months ago, mostly as an energetic quest. Eating raw foods makes me feel like I have more energy, that's the feeling I love most of all. I try not to preach about my diet, I just let people see my energy and how strong I am.
I like to fill my plate with foods that nature has already prepared. This goes far and beyond sprouts, celery, and carrots, which some people tend to associate with eating raw foods. I test a lot of different recipes and I love everything I make (ok, maybe not EVERYTHING).
Green smoothies/juices are by far my breakfast of choice. You can't get a healthier or easier breakfast, in my opinion.
This morning's meal

consists of a 32-ounce green smoothie combination of organic spinach, mixed baby greens, alfalfa sprouts, chia seeds, flax seeds, blueberries, banana, and water.
I crave greens and I can tell when I'm not getting enough; my body will start to crave foods that are not good for me. It's really beneficial to learn that upping my intake of leafy greens helps manage cravings.
My lunch meal was a Sunburger and

Blended Thai Soup

(carrots, orange bell pepper, coconut meat, almond milk, warm water, nama shoyu, agave nectar, jalapeno, cilantro, curry, and sea salt).
In addition to fabulous raw vegan breakfast, lunch, and dinner meals, I've also learned to make incredible raw goodies that satisfy my cravings for chocolate, ice cream, and even the fattier foods.
For a delicious Mid-afternoon Snack I nibbled on a few of these

Lemon Coconut Macaroons

while I sipped on a warm cup of

Schizandra Berry Tea

.
My meals are made with whole, raw ingredients and I use low-glycemic sweeteners and only the good fats that our bodies need.

I don't always follow my body's signals though.

Like this

Evening's Meal

:
Raw Vegan Falafel with Lemon Garlic Aioli (carrots, sunflower seeds, flax seeds, fresh parsley, onion, garlic, cumin, curry, sesame seeds, and sea salt).

When I eat foods like nuts, seeds, coconuts, and avocados, I've started to notice that I feel heavy and disconnected, so I'm learning to be mindful of that, reminding myself that even just one serving of these foods lowers my energy and contributes to addictive eating patterns.

I'm still learning and I plan to continue learning to prepare more raw vegan recipes, to become more involved in the raw food lifestyle, and eliminate the foods that I know don't encourage health or add longevity to my life.

This may not work for you but I know it works for me. This is what I know for sure.