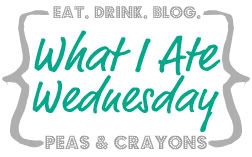 If you'd like to see more deliciousness, click here to see what other bloggers have been eating.
This week, I decided to post what I ate on Sunday, when I participated in the 2nd Annual Ottawa Yogini Yogathon. This was an exciting day filled with yoga, exclusively for women! Together, we put yoga into action by coming together outside studio walls in order to support empowering women and girls throughout the world.
The Yoga community is one of the strongest in North America, and as a community of 101 like-minded powerful women, we collectively raised $20,000 for 3 amazing local, National, and International causes: CARE Canada, Off The Mat, Into The World and Pact Ottawa.

How awesome is that?

That's me in the back row with the yellow flower around my wrist :)
I listened to my body and nourished it when I was hungry. This is a representation of what I ate that day:
Instead of starting my day on an empty stomach, I took a shot of E3 Live followed by a simple

Green Juice

made with a few handfuls of

Spinach

and 2

Apples

. YUM!!
A healthy, light lunch catered by The Nourished Self consisted of a Sprouted Lentil & Quinoa Salad (quinoa, sprouted lentils, bell pepper, carrot, celery, sulfate free cranberries, parsnip, and coriander) with a chai infused orange dressing (apple cider vinegar, sesame oil, olive oil, Bragg's Liquid Amino, orange juice, maple syrup, ginger, cloves, cardamom & cinnamon),

Raw Vegetable Balls

(carrots, celery, beets, sunflower seeds, onions, flax seed, parsley, pepper, mustard, and umeboshi), with

Roasted Red Pepper Hummus

(chickpeas, red peppers, tahini, lemon juice, garlic, and olive oil).
The food was delicious and it kept me energized for the rest of the afternoon!
For dinner, I made some Freestyling Garden Chickpea Fritters, a wonderful recipe I found over at The Daily Raw Cafe. I guess they're similar to a falafel, however, I've only tried falafel once before, and I had to spit it out because I didn't like it at all! I also sliced, seasoned, and dehydrated a few

Sweet Potatoes

for a simple side dish. Scrumptious!
My final thoughts: Keep changing, keep learning, keep evolving, keep growing! Namaste ☼